The Sociocracy Circle Structure Course
Learn about circle structure in general – and then draw your own!
Do you have an organization in mind? This set of videos leads you through:
Session 1: the basics of circle structure
Session 2: how to design your own circle structure of an organization 
How it works
You can do this course alone or in a small group.
It takes about 1 hour total (including the exercises)
This course is free for everyone! 
Experience level
This course works for beginners or as a review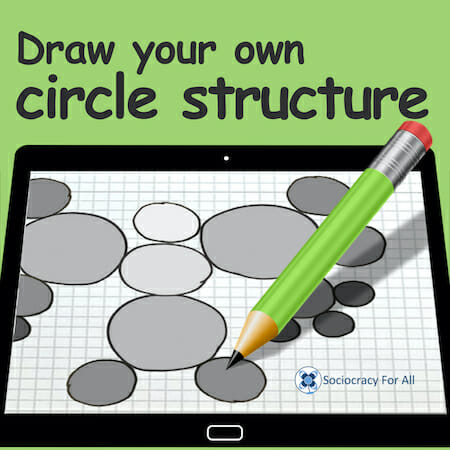 Sign Up for the Sociocracy Circle Structure Course
Unit A: Circles, aims, domains
Unit B: The General Circle
Unit C: Sub-circles
Unit D: Linking
Unit E: Forming the General Circle
Unit F: The Mission Circle
Unit G: Roles
Unit H: Example of a nonprofit
Unit I: Example of a community
Unit J: Decentralized organizations
Unit K: Evolution
Unit L: Common misconceptions
Unit M: Closing
Unit N: Your mission
Unit O: Your aims
Unit P: Your sub-aims
Unit Q: Your sub-sub-aims
Unit R: Your roles
Unit S: Your domains
Unit T: Check your structure
Unit U: Common mistakes
Unit V: Next steps
Sign up
This course is free – register now! 
You can go through the course alone or with a small group. 
[et_pb_wc_add_to_cart product="59939″ show_quantity="off" show_stock="off" _builder_version="4.7.0″][/et_pb_wc_add_to_cart][et_pb_wc_gallery _builder_version="4.6.6″ _module_preset="default"][/et_pb_wc_gallery]
Review your circle structure with someone
After you draw your first draft of a circle structure, you might have additional questions or questions about your specific organizations. This class can't cover all variations or special cases – but you can book an hour with an experienced coach to go over your circle structure with you.
Coaching can be done alone or in a group.
Cost: you can find our regular coaching calls on our coaching call. After you complete this course, we will send you a 25% discount code for a coaching call.
See our regular coaching offerings on our coaching page.