The Sociocracy Basics Empowered Learning Circle Course
8 hours of sociocracy training for small groups.
You want to learn about sociocracy, and a structured study group sounds great to you? Welcome to our ELC Curriculum, a sociocracy training for small groups! 
This is our entry class in 4 sessions of about ~2 hours each. What you will learn is equivalent to a weekend workshop – but you can do it any time, with your favorite people, in your own living or meeting room – and it is affordable! 
The most convenient and affordable sociocracy training we offer for groups!
4 sessions of sociocracy training to learn in your group!
For groups of 4-8 people – learn together in the same room (real or virtual)
Each session combines watching videos and doing exercises together
Our curriculum contains:

4 sessions of ~2 hours each, done as a group
A total of ~85 minutes worth of video content
More than 330 minutes worth of group exercises for your group
Pointers to 16+ articles and videos in preparation and enrichment
Access to 200+ answers to frequently asked questions about sociocracy (FAQ)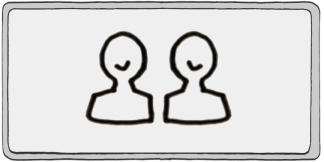 Coaching between sessions (optional)
Who is this Curriculum for?
Experience level: Beginners & intermediate
Getting a deep overview and some practical experience
This curriculum has been used by members of workplaces, cooperatives, intentional communities, consultants and activists.
See some happy groups in the pictures below!
"Your integrity and passion really came through in the videos and swept us along through this curiously satisfying learning process.  We all seemed to have a warm and positive experience by the end of it. We were mostly strangers before we started, but a wonderful sense of trust, affection and playfulness emerged over these past few weeks." (Luke, UK)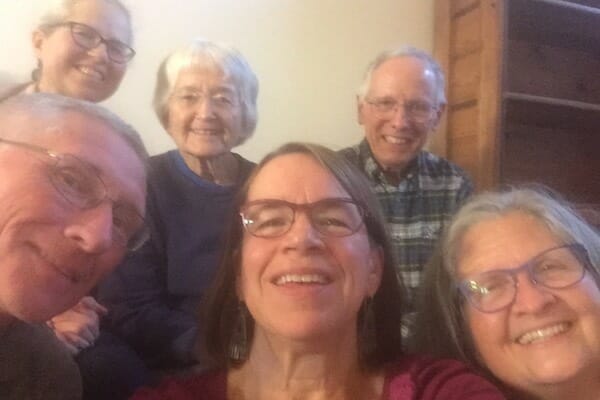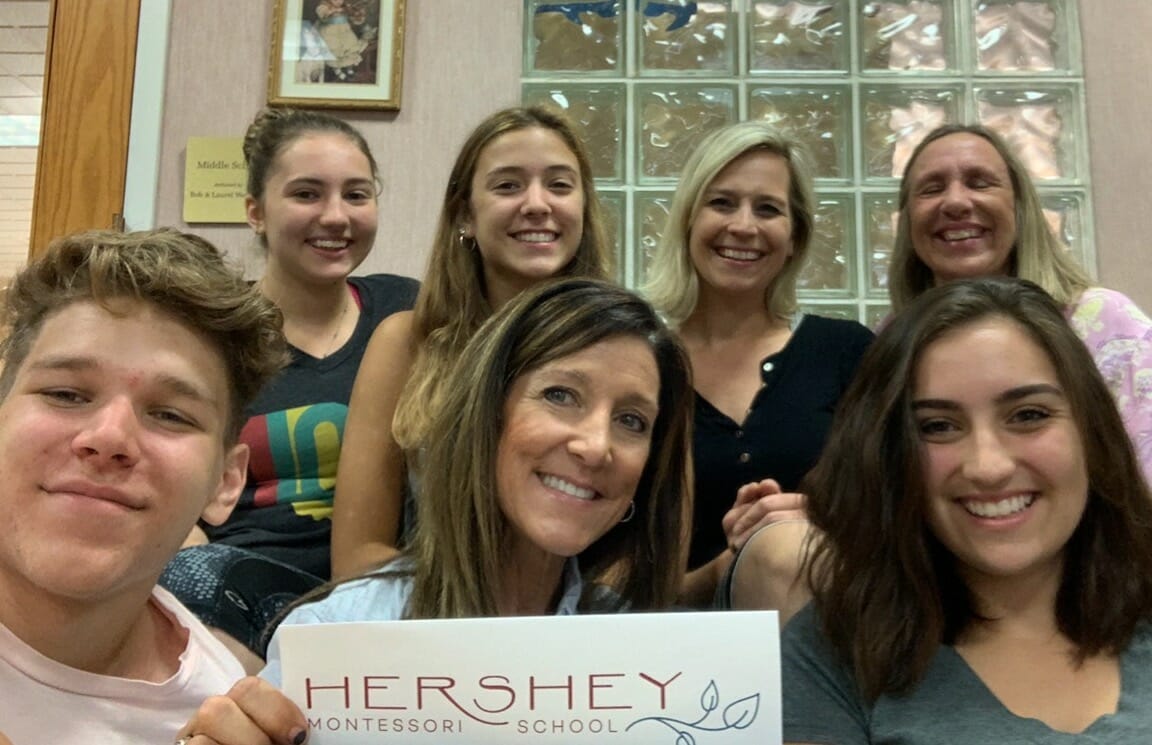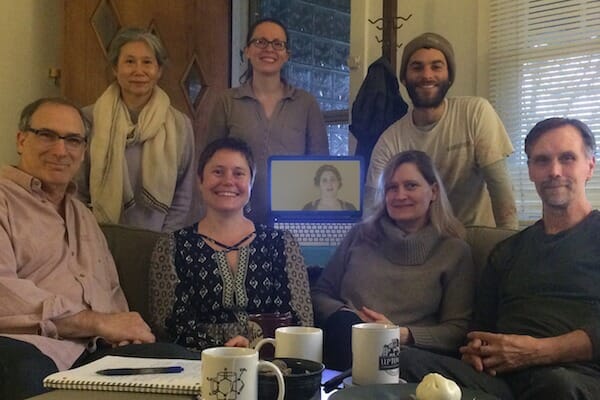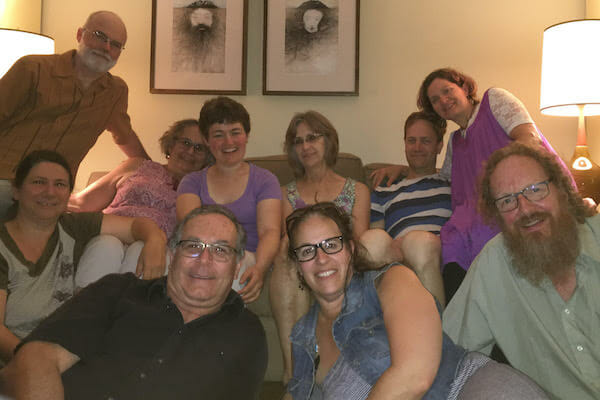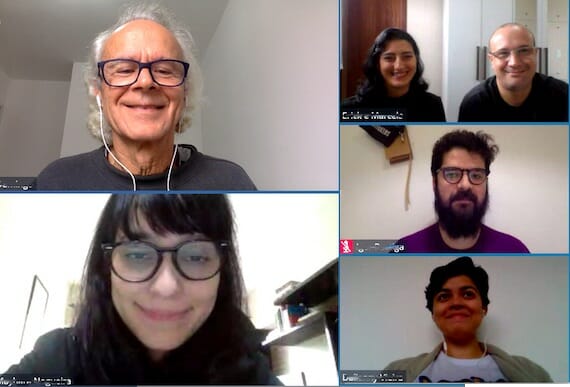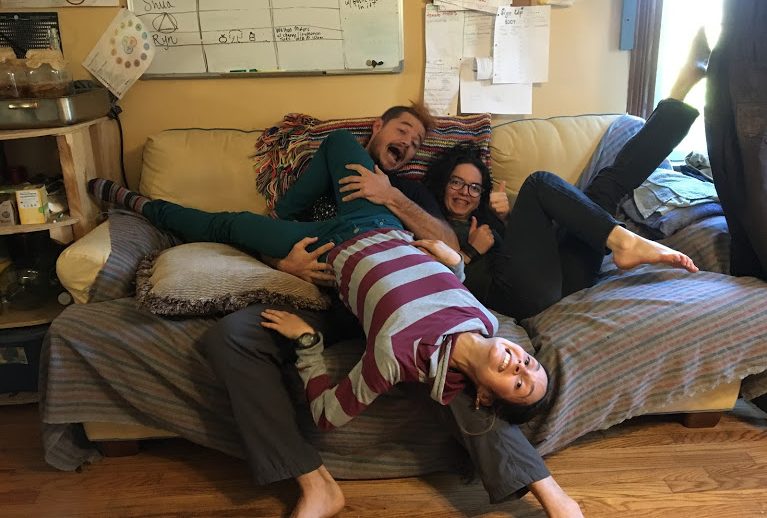 Without a coach
all training videos

online material for all Group Members

articles

coaching calls to check in between sessions

individualized answers to your group's questions about sociocracy
With a coach
$120 + $220 for coaching fee
all training videos

online material for all Group Members

articles

coaching calls to check in between sessions

individualized answers to your group's questions about sociocracy
Sign Up for the Sociocracy Basics
Empowered Learning Circle
The first Session is an overview of sociocracy and a chance to experience and practice the selection process that we use in sociocracy to fill roles.
Meeting preparation
Unit A: Introduction
Unit B: Meeting format
Unit C: Selecting a leader
Unit D: Selecting a facilitator
Unit E: Selecting a secretary
Unit F: Debrief the selection process
Unit G: Gather questions
Unit H: Meeting evaluation
How to write proposals together and how to move them forward to a decision.
Meeting preparation
Unit I: Opening and answer questions
Unit J: Generating a proposal
Unit K: Consent decision
Unit L: Gather questions
Unit M: Meeting evaluation
How we connect people and teams: an overview of circles, roles, and linking.
Meeting preparation
Unit N: Opening
Unit O: Answer questions
Unit P: Organizational structure and linking
Unit Q: Selection of a delegate
Unit R: Organizational structure
Unit S: Meeting evaluation
Feedback helps us improve over time – here are some simple ways to make it happen. Make sure to define next steps for your group!
Meeting preparation
Unit T: Opening
Unit U: Circle feedback
Unit V: Next steps!
Unit W: Gather (and answer) questions
Unit X: Meeting evaluation
Sign up for the ELC Express
Are you the Group Leader or a Group Member?
All Group Members need a Group Leader and the Group Name their Group Leader shared with them in order to sign up.
[et_pb_wc_add_to_cart product="37283″ _builder_version="4.4.8″][/et_pb_wc_add_to_cart]
Add Coaching for your Group
Do you want extra support on your journey?
Sociocracy For All coaches are experienced guides and personal support for your group.
Note: Coaches meet with 1-2 people from the group between your groups sessions, not during the group sessions. 
We can work together to find out how we can best support you on your Learning Circle journey!
Coaching is $220 per group.
This coaching package is good for 4 x 30 minutes – half an hour scheduled after each of your sessions.
Specifics around how the coaches time are applied are worked out between the coach and the group.
Complete your Signup for  Coaching
[et_pb_wc_add_to_cart product="33338″ _builder_version="4.4.8″][/et_pb_wc_add_to_cart]
How do the 4 sessions work?
Before the first session.

Make a date! The course requires a group to learn and practice with during the sessions. Get your group of 4-7 people together and schedule a time/date. You can meet virtually or in person.
If group members would like to follow along or watch the videos on their own computers (instead of over shared screen/sound for virtual gatherings), then they should sign up as a "Group Member" in advance. To do this, they need to know the group name you entered. The other members in your need to sign up for the course via this link https://learn.sociocracyforall.org/product/empowered-learning-circle-sociocracy-basics/ and select "Group Member". They enter the Group Name when they checkout.

During the session.

All members meet for each session and go through the group exercises together. Each session takes about 2 hours, including all exercises.

Hosting Remote sessions (like over zoom)
The group is responsible for working out its own meeting logistics, but we can offer some tips and suggestions.
The Group Leader arranges the remote conference. There are two ways of watching material as a group:

Option #1: Share the screen over zoom. This is the easiest for participants as it requires no additional action.

If using Zoom to share the SoFA training videos, be sure to check the "share computer sound" box. Otherwise, the group may not be able to hear the presentations.

Option #2: The second option is to have group members create their own Group Member accounts and watch the content on their own computer. This also allows them to review the content at their own pace. It requires that they register (for free) as a "Group Member". There is a template sent to the Group Leader that has information about this which can be sent to the group members.

Between sessions.

Answering your questions:

You can research the questions you've gathered in your session in the FAQ.
Meet with your coach to support your group in finding the answers in your group. (optional) We recommend getting coaching from our experienced Sociocracy For All coaches. We recommend 4×30 minutes of coaching ($220) alongside with this training.

Enjoy the additional materials! (You will receive them in an email.)
Read the articles in preparation for the next session. (You will receive them in an email.)
Training Philosophy
Sociocracy For All is a non-profit driven by a mission: making good governance methods available to everyone. We think that better decision-making and inclusion should be the new normal in all places where people come together: schools, businesses, volunteer organizations, schools, clubs, even families! 
To achieve the mission, we work with members and staff to make sociocracy accessible to as many people as possible, without compromising on quality. This ELC course is an example of that. We want to strengthen existing groups and give them the tools and the opportunity to learn together, like a workshop just for your group, on your own schedule, and tailored to your needs. A precursor of this curriculum has been used by dozens of groups, both to give an introduction, prepare an implementation, or to train new people in an already sociocratic organization. 
Coaches - how do we get a coach? (optional)
What's a coach?
In ELC coaching, you meet with a coach for 30min between sessions. (Depending on scheduling, your whole group can meet with the coach or just 1-2 people from your group).
Your coach will be able to answer your specific questions about sociocracy and in your context, much more tailored to your needs that the FAQ.
How do I find a coach? 
If you'd like to find a coach for your group, you can visit the Sociocracy For All coaching page. ELC coaching is one of the options there. Buy the coaching ticket, and we'll find a coach for you. 
What happens after this class?
If you'd like to continue with coaching afterward, you can get a regular coaching package on the coaching page. 
More questions? Email to elc@sociocracyforall.org! 
What does the course leader do?
The Course Leader will set the pace for your group and organize your group practice sessions.
Some groups may have chosen to use a shared login for their group leader account, in which case your group leader may share that login. If you are using the Group Leader login, then you control access for the group.
What if the group has multiple leaders?
If the person who paid for the leader account is either not the one who will be leading the group, or is co-leading, they should share the account with the other leader(s).
To make a shared account, all the leaders will need to login with the same email address, or use a shared password on the SoFA website.